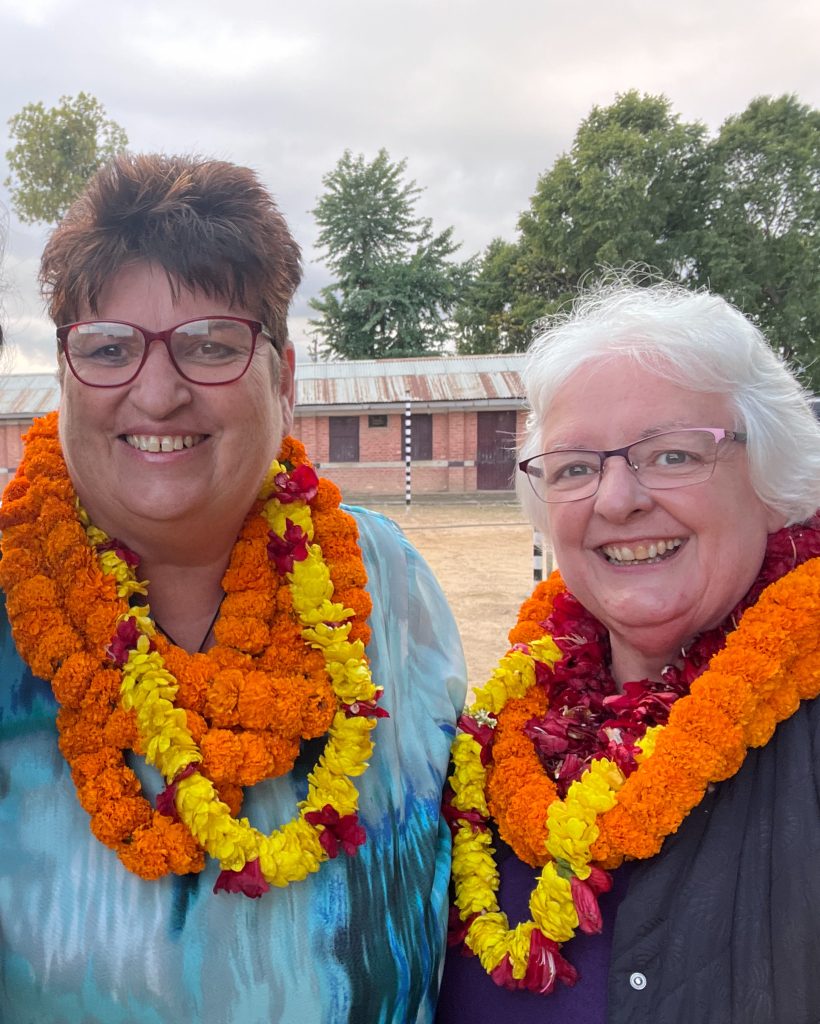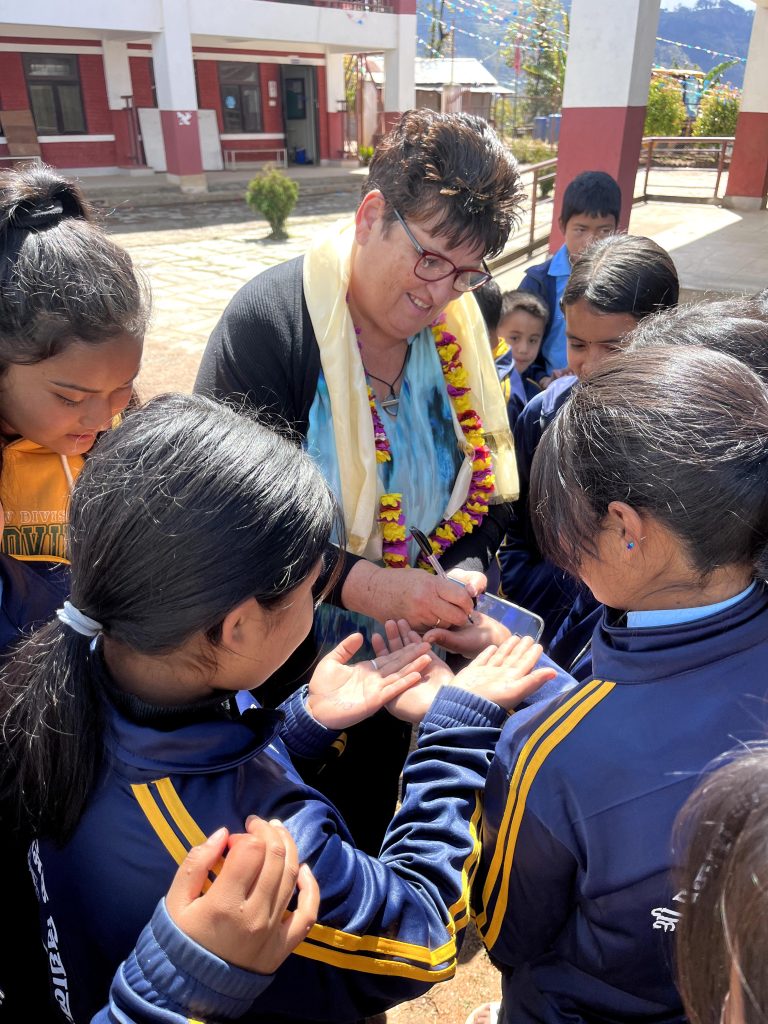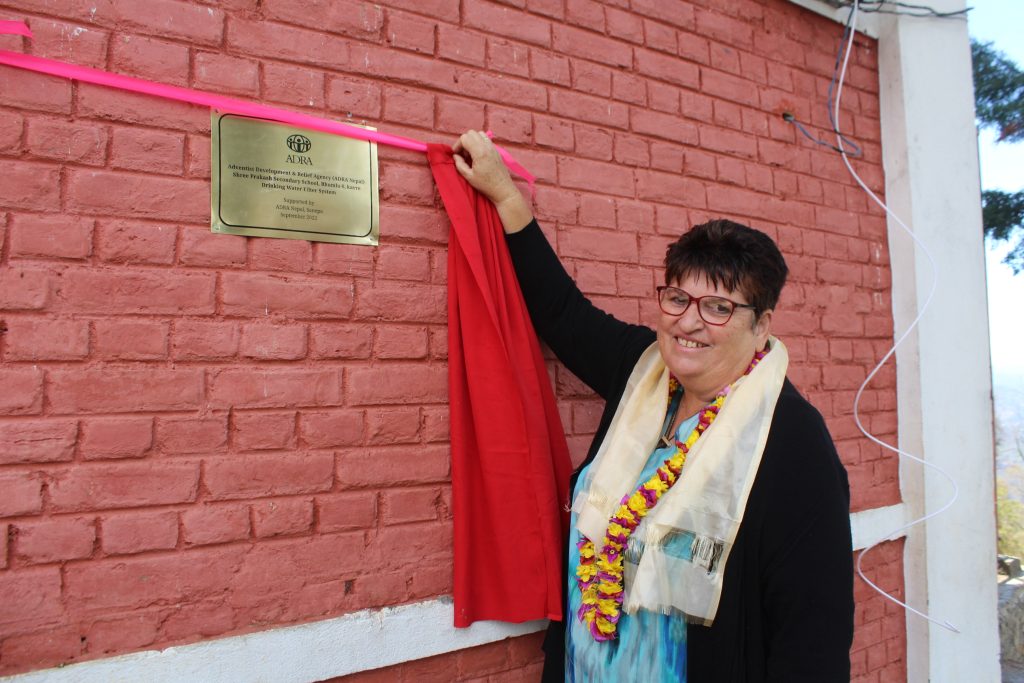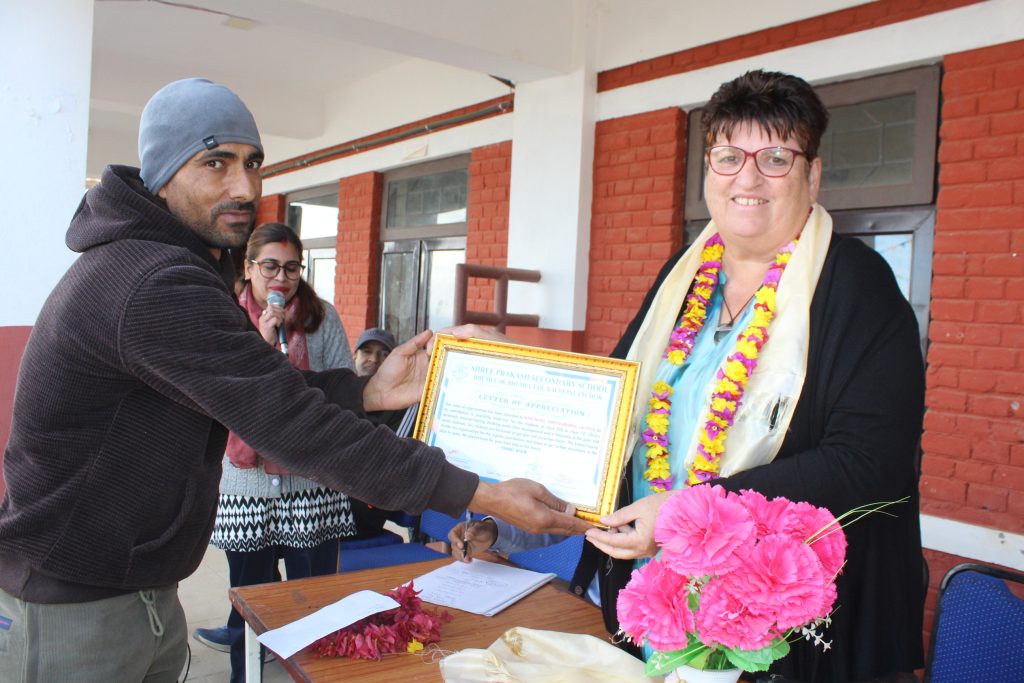 When Neroli Seberry greeted the hotel owner and staff where she was to be staying, there were huge hugs and excitement from both sides. It has been four years since her last visit to Nepal, but aside from the break, she has been there nearly every year since 1996 when she joined a group from Australia providing medical care. From that first visit to the country, she saw the needs surrounding her, and on asking what she could do to help, she was told to 'educate the children.' Since that day, she has worked voluntarily in Australia raising money for education, and through her contacts at work, socially and at church, she has arranged sponsorship for 100-150 children each year. Many children have been supported from kindergarten through to finishing high school. She sponsored 'her boy Bibek' through to high school, then paid for his Bachelor's in Dhulikel and Master's degree in India, and continues to maintain a closeness with him and his family.
Neroli built a close relationship with ADRA's former Program Director Bidya Mahat, who she regards as family staying at her home for a few days during each visit. Until six years ago, Neroli's close friend Glenys Chapman also made the trips. Glenys was also passionate and committed to the sponsorship scheme inspiring many to sponsor children generously. Sadly Glenys passed away six years ago from cancer but was able to do one final visit to see 'her children.'
It is clear to see Neroli's love of the country and desire to help children receive an education. ADRA's child sponsorship scheme works with government schools to sponsor uniforms and school supplies for the poorest children. Many children are at risk of non-attendance because of a low family income; they can't meet these basic school needs; also, they might have to walk up to 2hrs to school, which can be de-motivating. There is also a high drop-out risk in mid-secondary school when they might seek work instead. The sponsorship eases the financial pressures on their families and encourages children to continue their education. 
When she visits each year with the medical team, Neroli always comes a few days earlier to see all the children she and her 67 contacts sponsor. This year it was 95 children across seven schools. She took some Nepali lessons in Australia and happily communicates as much as she can as she takes photos of the children to take back to their sponsors and passes on letters from them to the children.   She has seen the various schools change and develop throughout her 26 years of coming and comments on how the 'black top' roads make the trip much faster and more comfortable compared to the dirt roads she previously travelled on to reach the schools in Kavre district.
Neroli's friend Delwyn Taylor has joined her for this visit and the previous one. Delwyn, a neonatal nurse, and specialist in the medical team, also sponsors two children. She has always been active in volunteering and serving, organizing local support for people following floods in Australia. Delwyn first visited Nepal in 2018 with a Connections trip, joining a group of young people working with ADRA Nepal to renovate a school. These trips allow Australian youth to experience a new country and serve others. In 2019, she was excited to join the medical team and return to Nepal where she met a little girl who needed sponsorship. With two parents who are teachers, she especially recognised the benefit of education, and thought, 'how can I not?'. She immediately became more involved in child sponsorship. Delwyn often shares her experiences at her church, Park Ridge, in Brisbane to generate further support.
Neroli spends much time voluntarily managing the sponsor side of the program from her home in Newcastle, Australia. She supports her mother, 89, who knitted 200 beanie hats for the sponsored children throughout the pandemic. As this was the first visit since the pandemic, Neroli brought the caps and distributed them as she visited the children.
Both women are passionate about service and feel their Christianity leads them to be the 'hands and feet of Jesus'. They are happy to help where they can and when their finances allow. This passion has spread to their friends and other sponsors. Their friend won a car and did not need it, so they sold it and donated AUD$ 10,000 to the education scheme. With the money, they supported a school by providing a water filtration system, internet access, library books, and tracksuits for all 300 students. Government schools are often underfunded and need more resources to provide the environment or services required for a good education. Many teachers travel from a distance and stay in basic conditions to work during the week. Any help provided to schools is appreciated and needed, and it is inspiring to see how generosity and passion spread to others.
Last year one of the sponsored children was in an accident and needed surgery. It happened to be one of Neroli's and her mother's. It was a sacrifice, but they sent the money to help him have the surgery. She was so happy to meet him and his family on her visit this week. Neroli is now working only part-time as a nurse. While her financial situation may not allow her to fund additional costs like this, she remains eager to continue sharing the need and work to encourage others to give.
Santosh, the Education Program Officer for ADRA Nepal since 2004, meets her each year that she visits and takes her on the trips. He maintains contact with the schools and children, tracking their stories and feels personally inspired by the part that Neroli and the other sponsors play. 
Many sponsored children have pursued bachelor's and master's degrees. Two are studying medicine while many work in good jobs in Kathmandu city and other areas. The benefit of education and the opportunities it brings to children and their entire family is evident. There are children whose parents are not educated themselves; many are of lower caste, which may affect their opportunities. Most sponsored children in the Kavre district come from farming families whose subsistence farms provide just enough to eat rather than generate significant income. The encouragement to complete their education means they will have more options and can help their families out of poverty.
ADRA Nepal would like to thank Neroli and Delwyn and all the other sponsors and private donors for their commitment and the voluntary work they do in fundraising for children. Their stories and efforts inspire us, and we hope they inspire others.