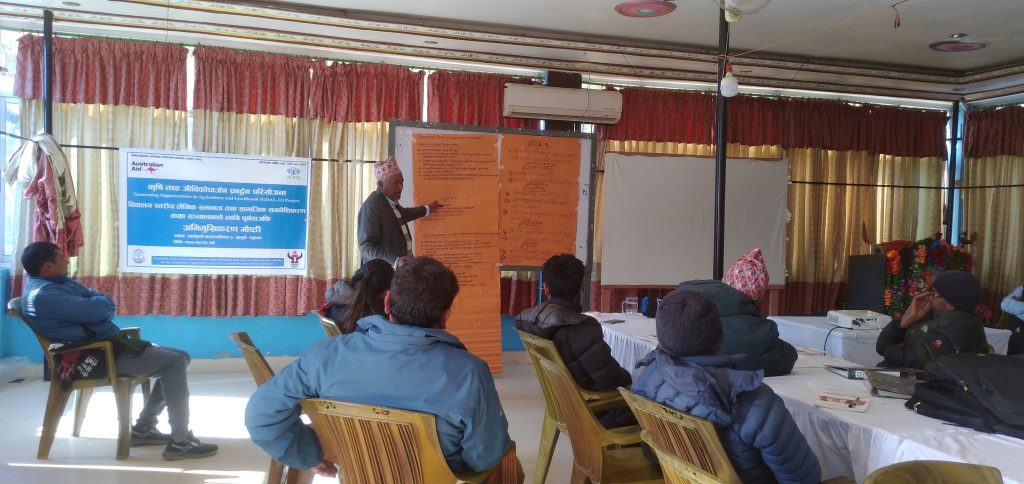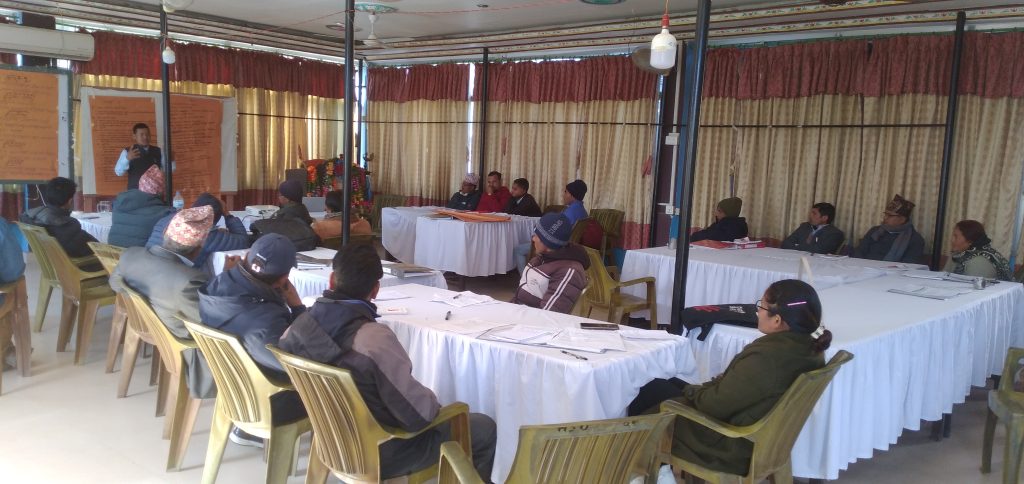 Some young girls and boys experience violence and harassment in, around, and on the way to school. Unfortunately, recent reports have shown that gender based violence within Nepal has increased. With the right training, teachers can play an important role in preventing the expression of gender-based violence in the school setting. They can provide positive role models, empower students to have healthy and respectful relationships, and deliver a notion of gender equality and social inclusion (GESI) within their curriculum.
A day of training on school Gender and Social Inclusion (GESI) content was organized at Bhingri Pyuthan under GOAL-II project in coordination with the education department of the local level with the aim of training school teachers in GESI and Preventing Sexual Exploitation, Abuse and Harassment (PSEAH). A total of 18 teachers from the secondary schools of both districts participated enthusiastically. The sessions included the introduction and concept of school GESI content, PSEAH, complaints, and feedback handling mechanisms. The event was facilitated by Karuna Baral (Gender and Safeguarding officer, ADRA Nepal), Purna Lal Shrestha (Senior Project Officer, ADRA Nepal), and Palika Coordinators applying participatory learning approaches (brainstorming, experience sharing, group discussion, and presentation). A review and reflection session was conducted on the initiatives of School GESI accomplished last year where they highlighted learning, good practices, challenges, and the way forward. School teachers developed an action plan for delivering the GESI content to disseminate widely through their schools to their students. They agreed to start the classes in schools from the upcoming new education from May 2023.
The major objective of conducting School GESI and PSEAH content to students is to keep children safe while in education because it is crucial for their attendance, learning, and their overall wellbeing. It is very important for girls' access to education especially in their adolsocence. These sessions will help to maintain the child safeguarding standards, and protect them from any forms of sexual exploitation, abuse and harassment. They will also help in situations where school students suffered harrassment from teachers, peers, and relatives but hesitated reporting it. Hence, the project will mitigate the violence by raising awareness and sensitizing the community through teachers and school students.
This activity was part of the GOAL-II project which is funded by the Australian Government Department of Foreign Affairs and Trade (DFAT) and ADRA Australia and implemented by ADRA Nepal in partnership with FIRDO Nepal Pyuthan, and RUDAS Nepal Rolpa from July 2019 in the Swargadwari municipality of Pyuthan and Runtigadhi rural municipality of Rolpa.