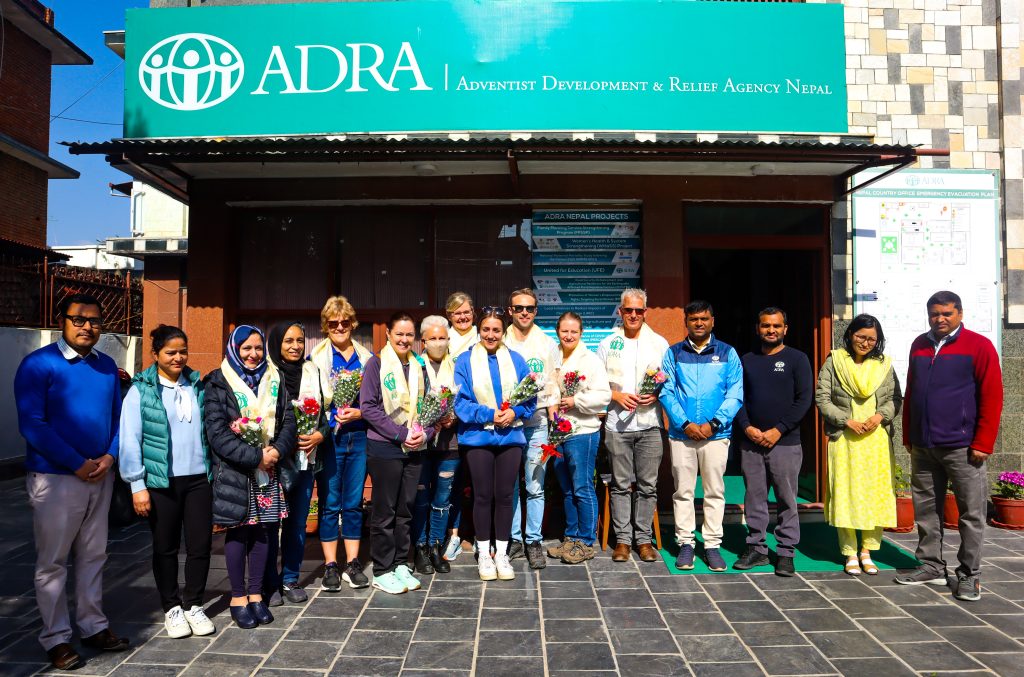 ADRA, in collaboration with Open Heart International, provided pelvic organ prolapse surgeries for marginalized and vulnerable women from Madhesh and Koshi Provinces.
This week our partners and donors, Open Heart International, have been carrying out pelvic organ prolapse* surgeries as part of our WHaSS project.  Fifteen volunteers made up of 1 Uro-Gynae surgeon from the UK, 2 OB-GYN surgeons, 2 anaesthetists, three scrub nurses, one recovery nurse, two ward nurses, a non-clinical support person, a country coordinator and OHI Operations Manager from Australia, have been working hard over nine days to provide surgeries to 46 women. Six gynaecologists from the provincial hospital in Janakpur were also invited for capacity building and skills transfer activities during surgery.
The patients were screened and referred through ADRA's WHaSS project, where the process starts with a Roving Service Provider (RSP). She visits to village of poor and marginalised groups who do not typically have health-seeking behaviour. The RSP meets with women and mothers' groups and shares information about pelvic organ prolapse, its symptoms, risk factors, and how they can prevent it. Through these activities, she finds out whether women suffer from it and screens them to determine the level of treatment they might need. Embarrassed and ashamed of their condition, many women have suffered silently for years. Some cases might require pelvic floor exercises, a ring pessary treated at a local health post, or surgery at the provincial hospital. The critical cases are referred to the Scheer Memorial Adventist Hospital for surgery when the OHI Team visited.
OHI's Nepal Country Coordinator, Coralie Batchelor, has been coming to Nepal with the medical team (formerly under Sydney Adventist Hospital) since 1994. She loves the work and describes it as 'priceless' to see the look on the patients' faces after surgery when their pain and discomfort have gone. The team members contribute to the project costs personally and fundraise for the trip and supplies they bring. They do it in their own time, either taking unpaid leave or using their annual leave days. As well as enabling the surgery to be completed at a lower cost, they bring experience and expertise, which is essential for complicated cases and provides a training opportunity for local gynaecologists.
The patients, who range in age from their twenties up to age 80, arrive with their caregiver one day before their surgery. They are screened, assessed, and scheduled for surgery; following the surgery, they might remain in the hospital for 24 hours and, on discharge, return to their hotel room for five days to recover further before traveling home. The project covers their travel, accommodation, meals, and surgery. For all the women, this would be something they could never afford, and they were incredibly thankful to all organisations who made this happen for them. Some were eager to share their story.
 Fulo is 65 years old and started experiencing symptoms 22 years ago. Over the years, they worsened, and she lived with bleeding, lacerations, a protrusion, difficulty going to the toilet, and pain and discomfort when walking and sitting. Fulo married at 13 years old and had her first child at 18, followed by another three close together. She did hard labour throughout her pregnancy, gave birth at home without a midwife, and resumed her hard work soon after each delivery. As her symptoms persisted, Fulo suffered silently, not sharing them with anyone. Finally, she shared it with her husband three years ago, but he didn't help, telling her it would disappear. When he died, she shared it with her children, and they helped her. A previous client of the WHaSS shared their positive experience and referred Fulo to an RSP who screened her. She was eligible for the surgery with the OHI Team. Now, 24 hours after the vaginal hysterectomy and repair, she is already feeling better and grateful for the improvement in her well-being. Fulo promised to rest for six weeks, as recommended, following her surgery before resuming work looking after her grandchildren.
 It is clear how the surgeries improve the quality of life for women. The condition, while not necessarily life-threatening, as well as the physical symptoms, causes a lot of embarrassment and shame. It affects every aspect of their life and can lead to divorce, domestic violence, isolation, and depression.
We are pleased to work with many organizations to make this project and OHI visit a success; BWSN, OHI, ADRA Australia, Scheer Memorial Adventist Hospital, and the Government of Australia. While the WHaSS project ends in a few months, we know many more women need help with this condition, help in learning about it, treating it, and preventing it for the next generation.
 *Pelvic Organ Prolapse is a condition where, at its worst, the pelvic organs, such as the uterus and vaginal wall, protrude significantly through the vagina, resulting in pain, discomfort, lacerations, bleeding, and infections. The muscles responsible for holding the uterus in its usual position have been strained and weakened due to several reasons, which may include heavy labour, early marriage, early pregnancies, pregnancies close together, heavy labour during pregnancy and immediately after delivery, giving birth without trained midwives, intercourse too soon after delivery, poor nutrition and genetic factors. Unfortunately, these are common behaviours seen in poor and marginalised communities. Our WHaSS project includes prevention and education activities, screening and treatment, and strengthening local health facilities' services and systems.