ADRA Nepal in partnership with RUDAS Nepal has been implementing GOAL-II project from July 2019 – June 2024 in Runtigadhi Rural Municipality of Rolpa district. The main objective of project is to empower women and increase income of poor and vulnerable people in Runtigadhi Rural Municipality through improved access to business development services, input and outputs markets.
As part of collaborative initiative from the local government and GOAL-II project, Holeri haat bazaar was inaugurated on 15 July 2023 for collective marketing of vegetables in Runtigadhi Rural Municipality. Holeri Haat Bazar operates 2 days a week (every Saturday & Tuesday) where the buyers from nearby markets like Bhingri Pyuthan, Bhaluwang and larger regional markets like Nepalgunj, Butwal, Ghorahi, Tulsipur come to collect and buy vegetables. It has been recorded that a total of 3000 -3200 quintals of fresh vegetables were traded to other districts from this market during the first day. The price of the vegetables is fixed by the market management committee in consultation with the traders, farmers and stakeholders. With the functioning of haat bazaar, farmers have started to receive fair prices for their products as they are better positioned to collectively negotiate the price of their products with the buyers.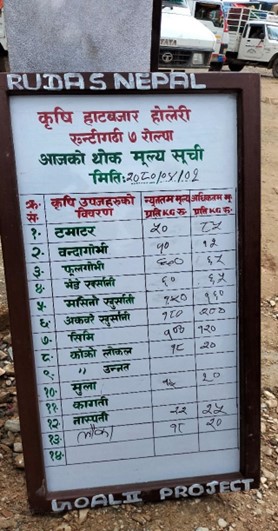 With the entry of many buyers and traders, the monopoly of few local buyers has been broken after the functioning of this market. Farmers are also conscious of bringing quality products as they get to know the correlation of the quality product with the price because of which farmers have started to bring quality product with grading, packaging, sorting and washing. For sustainability and functionality of the market, Local government & Market management committee are taking the primary responsibility with the strategic plan and guidelines facilitated from the GOAL-II project.