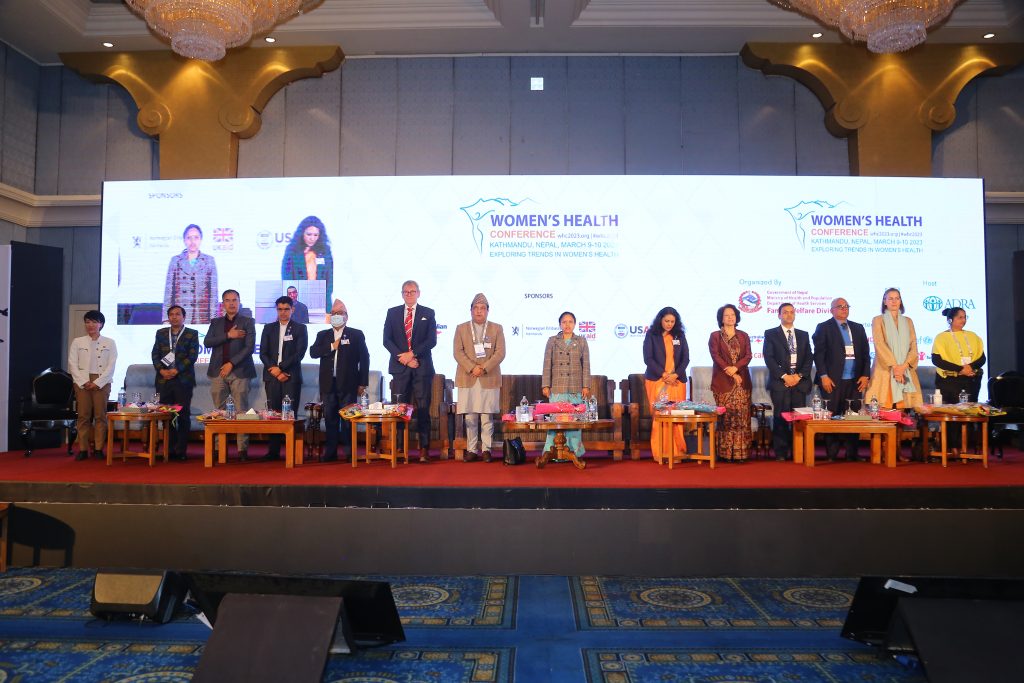 ADRA was honoured to host the first Women's Health Conference in Nepal, which was organized by the Government of Nepal Ministry of Health and Population, Health Services and Family Welfare Division (FWD). In 2022, ADRA approached the FWD with the idea and worked with them to develop it and bring it to fruition. The FWD division committed to organize this event, recognizing that in Nepal, while we have made progress in many areas, there remain to be significant challenges in the provision of health services to women. They recognized the importance of bringing together government departments, funding organizations, International and local NGOs, academics, students, and interested parties to share innovations, research, experience, explore trends, and ultimately plan for the future.
"When people think of women's health, they only think of sexual and reproductive health, but now we are demonstrating that women's health incorporates a wide range of issues, and for us to develop and address poverty, we need to focus on uplifting women, including all aspects of women's health." Dr. Bhatta, the Associate Director for Health at ADRA Nepal, who was the driving force behind this conference.   The conference not only provided the opportunity for formal discussions and information sharing, but was a vital arena for networking and bringing actors together informally to share knowledge, view commonalities in each other's work, and increase collaboration.
The conference was opened by several special guests, including Hon. Minister, Chief Guest, Ministry of Information and Communications, Rekha Sharma, Health Secretary, MoHP, Chair, Dr. Roshan Pokhrel, The Honourable Ambassador to Nepal from Germany,  Dr. Thomas Prinz, UNFPA Country Representative for Nepal, Won Young Hong,  among many others dignitaries*.
Each who spoke provided inspiring messages from their organizations sharing their commitment to women's health. "Healthy women will create a healthy family, and a healthy family, a healthy community, and from a healthy community – a healthy nation." The Honourable Ambassador to Nepal from Germany,  Dr. Thomas Prinz.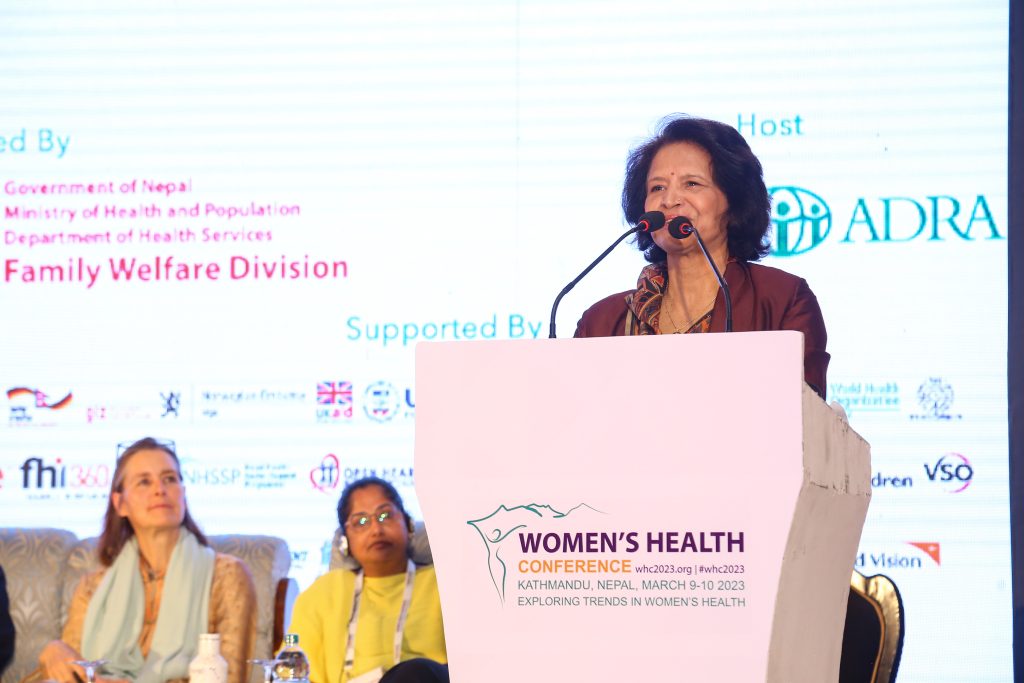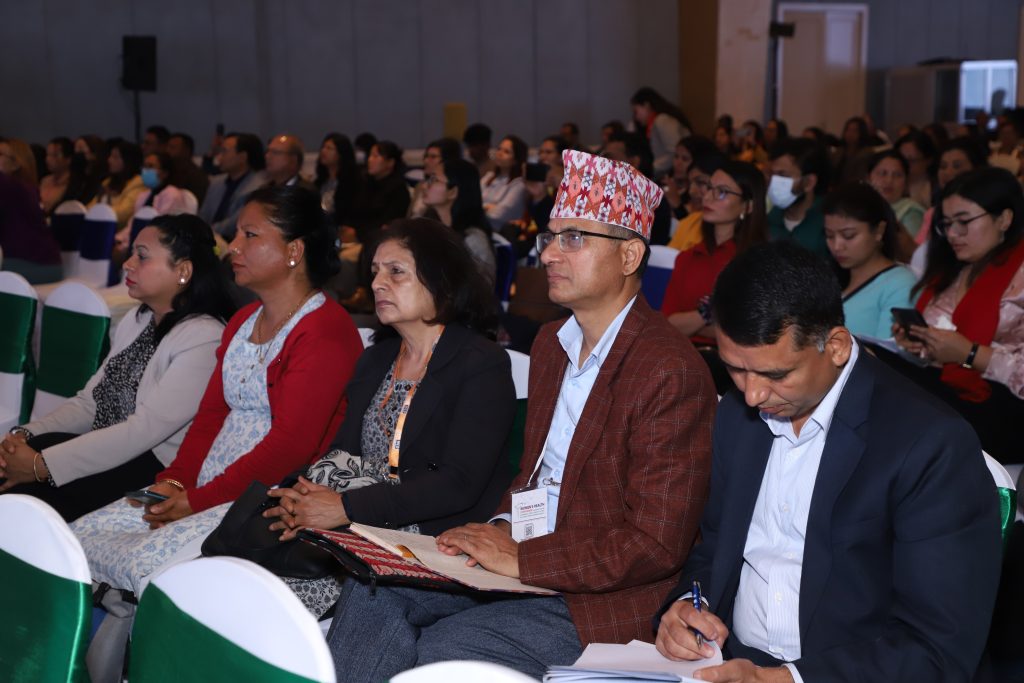 The conference sessions covered four main themes, Sexual and Reproductive Health and Rights (SRHR), Non-Communicable Diseases (NCDs), Child, Adolescent, Elderly Health, Women's Health in Humanitarian Setting, and Nutrition. Three ADRA team members presented papers on their project areas and studies. Dr. Suman Rawal presented his study 'Reaching the Unreached – Ensuring COVID-19 Vaccination Access for Women during Health Emergency.'  Mr. Sujit Kumar Sah presented 'Evaluation of the effectiveness of Post-Partum Family Planning (PPFP) promotion at Health Facilities in Nepal: A Pilot Study of ADRA PPFP Institutionalization Program. Also, Tom Pignon, Country Director, represented ADRA in a panel discussion on Women's Health in Humanitarian Settings. He highlighted how disasters are gender neutral, but their impact is not, and shared ADRA's experience and commitment to women's health in humanitarian settings.
The broad range of topics showed just how interlinked women's health issues are, demonstrating the need for connected and multifaceted programs in the issues they address. It was clear to see the links between many health problems women face and the social risk factors that cause and result from them. Delegates expressed how useful it was to have a conference of this nature, and there was a clear sense of the central theme – 'Exploring Trends in Women's Health' being achieved.
Along with the main conference was a youth pre-conference event hosted by a group of 4 organizations, Visible Impact, Yuva, Blind Youth Association Nepal, and Beyond Beijing Committee. They set up a youth lounge that was open to all young people and conference attendees where they could come and relax, participate in some quizzes and games, create live art, and discuss some issues covered in the conference. They also had a linked in photo-shoot where young people could get professionally shot photos, which they could use for their Linked-In profiles, resumes, and career development. During the conference, the youth had discussions and developed a Youth Call to Action on issues that mirrored those in the conference and presented it to the government at the close.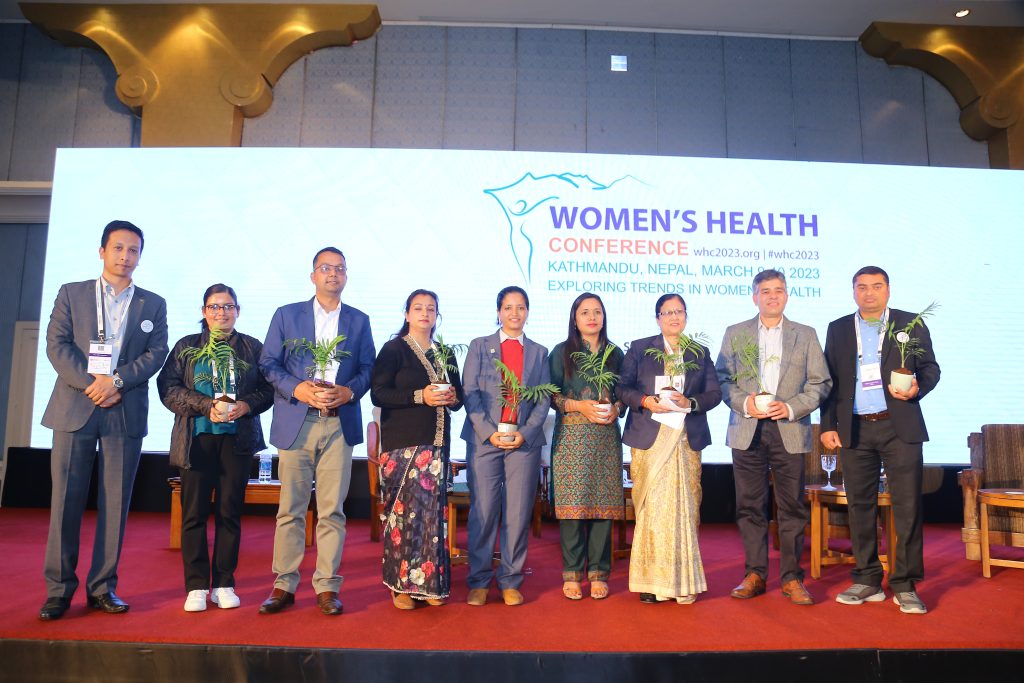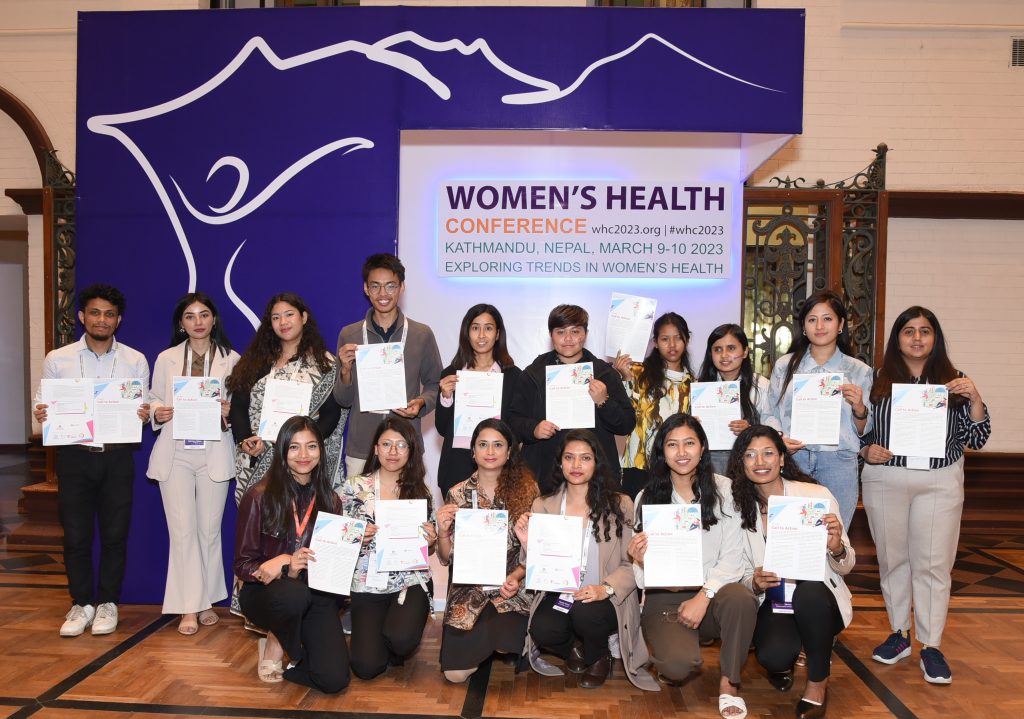 Hotel Yak and Yeti provided an excellent venue, refreshments and lunch for the 300 delegates and additional attendees and enabled the very high-tech conference envisioned by the organizing committee. A 40ft digital screen provided excellent visibility of the stage and presenters at all times. Interpreters provided translation services for delegates requiring English through headsets, and sign language was shown on the screen throughout all sessions.
As well as being key in organizing the event, all ADRA staff and additional volunteers provided support for registration and logistics, assistance to delegates, and liaison with the hotel ensuring operations ran smoothly.
At the end of the two days, the conference was concluded by a closing ceremony attended by government officials* including Mr. Shankar Das Bairagi, Chief Guest, Nepal Government, Chief Secretary and the Honourable Ambassador to Nepal from Great Britain, Nicola Pollitt. In their speeches, they observed the conference's relevance and success and committed to focusing on Women's Health. "It is our responsibility to encourage our future citizens to become health-conscious and competent, and to remember that a healthy mother in a remote area is no less important than an entire school. We must continue to work towards the goals announced during the program to make a difference in the lives of millions of women."    Dr. Dipendra Raman Singh, Director General – DoHS. The youth presented their call to action, and final words of thanks were expressed to the supporters and organizers of the conference.
Following this conference, the organizing team will disseminate the conference notes and key messages and continue to liaise with the government to follow up on the commitments given. The conference was reported on national news that evening and the following morning as well as reports in online publications. ADRA Nepal would like to acknowledge and thank the ADRA health team, Dr. Ghanshyam Bhatta, Dr. Suman Rawal, Mr. Pankaj Bhattarai, Mrs. Durga Subedi and Mr. Sujit Kumar Sah for their dedicated work with the conference and Ms. Shristee Lamichhane for her role as Conference Secretariat.
"The conference exceeded my expectations and I'm so proud of the team for their contributions. It is excellent to see the commitment and interest in Women's Health by the government, funding organisations. INGOs, NGOs and the academic world and I hope we can move forward and make a stronger impact in this area." Tom Pignon, ADRA Nepal Country Director.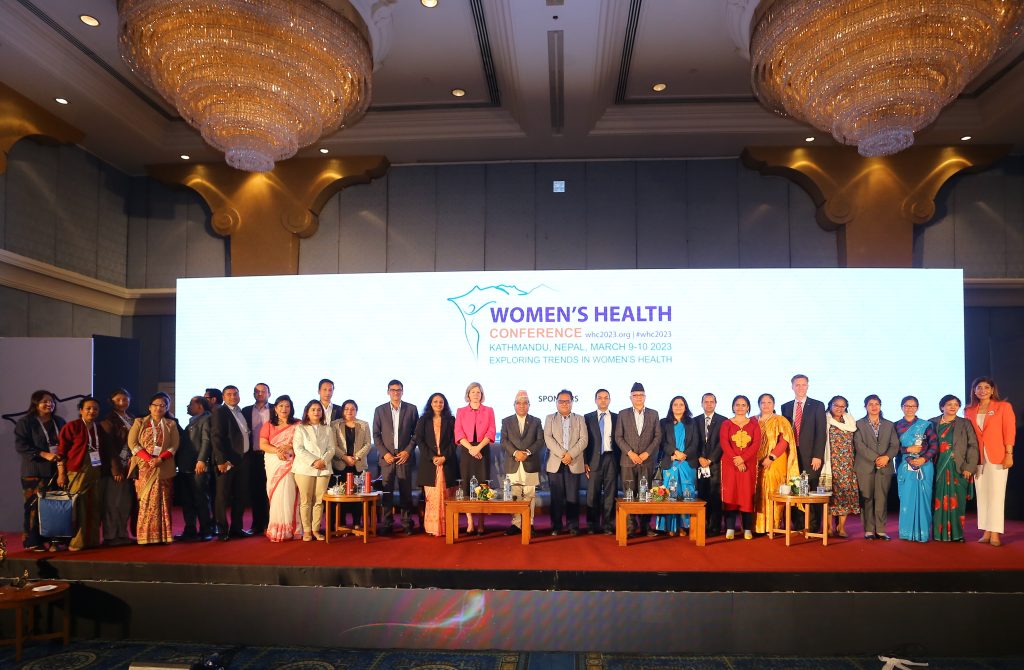 WHC Declaration
Kathmandu Declaration on Women's Health 2023
We, the participants of the Women's Health Conference, which was held on March 9 and 10, 2023 in Kathmandu, have jointly committed to this declaration titled "Kathmandu Declaration on Women's Health 2023". This declaration has been represented by Ministry of Health and Population, Department of Health Services, Family Welfare Division, concerned entities and institutions at all three tiers of governance, bilateral and multilateral agencies, development partners, diverse people, academicians and researchers, private sectors, media professionals, etc.
We jointly commit to:
Adopt a holistic approach in delivering women's health to prioritize issues that are currently in shadow, including, but not limited to, cervical and breast cancers, infertility, morbidity, nutrition across the life cycle, menstrual health, and care and services for elderly women, etc.
Reduce inequity in effective coverage and utilization of women's health services, especially focused on underserviced groups such as young women, indigenous women, women living with disabilities, unmarried girls and women, transgender persons, single women, elderly women, women in humanitarian crises, etc.
Adopt a systems-strengthening approach for sexual and reproductive health and rights, nutrition, non-communicable diseases, mental health, and other allied issues, including unleashing adolescents and youth as champions.
Increase investment in women's health, to sustain achievements made so far, and fulfil the existing gaps, with increased utilization of technologies across various sectors, including the use of artificial intelligence, to improve women's health.
Strengthen multi-sectoral collaborative efforts to maximize impact.
Foster partnerships among academia, research institutions, private sectors, and researchers for evidence-based decision making, promote innovations, and address research priorities on women's health.
Foster leadership among all bodies of the three-tier federal structure of governance for women's health issues.
Address structural barriers and social norms, laws, and policies that prevent women from realizing their health and rights and exacerbate the multiple crises we are experiencing.
Develop and implement "National Plan of Action" of this declaration, and link it with other national, regional, and international commitments.
Dated: March 10, 2023
For further information please see the IWC 2023 website. www.whc2023.org.
*Opening Ceremony Guests
Hon. Minister, Chief Guest, Ministry of Information and Communication, Rekha Sharma
Health Secretary, MoHP, Chair, Dr Roshan Pokhrel
Australian Embassy, Head of Development-Kavitha Kasynathan
Ambassador of Germany, Dr. Thomas Prinz
Ambassador of Norway, Ms. Torun Dramdal
Additional Health Secretary, MoHP-Dr Sangita Mishra
Director General, DoHS, Dr Dipendra Raman Singh
Director General, DDA, Narayan Dhakal
Director, Family Welfare Division, Dr Bibek Kumar Lal
EDP Chair, Noor Pant
AIN Chair, Bhagwan Shrestha 
UNFPA, Country Representative- Won Young Hong
UNICEF, Country Representative- Elke Wisch 
WHO, Country Representative- Rajesh Sambhajirao Pandav
*Closing Ceremony Guests
Dr Dipendra Raman Singh, Director General-Department of Health Services
Dr Bibek Kumar Lal- Director, Family Welfare Division
Dr Sangita Mishra-Additional Secretary, Ministry of Health and Population
Mr Shankar Das Bairagi, Chief Guest, Nepal Government, Chief Secretory
Ambassador of UK, Nicola Pollitt
Supporters